Once again we had a battle with a Baker Hydro sand filter leaking from the threaded adaptor at the bulkhead. We get called out for the same filter problem several times a year despite the relative rarity of Baker Hydro filters.
The walls of the adapter are made paper thin to accomodate a sunken o-ring and tend to perish and disintegrate after a few years. Unscrewing the bulkhead collar once or twice is even enough to cause the adapter to start breaking.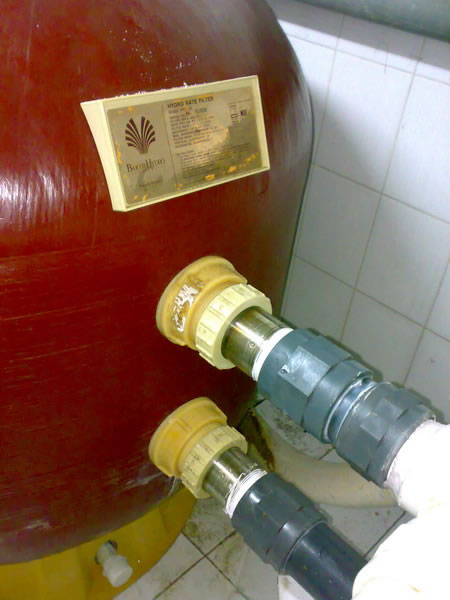 Parts are not easily accessible and we tend to get the odd parts custom turned in stainless steel, which will never let us down. We figure the original only lasts a few years anyway so get it repaired once and it's fixed for good (or at least until the filter dies). The pair of collars we had made for this filter cost us around $30, which is not much more than we would have paid if we had bought original PVC parts and added in the shipping.
We can even recycle the stainless steel parts after the sand filter is laid to rest – a good buffing and they're ready for the next repair job. The end result? The filter will keep going for a few more years and when the bulkhead adapter breaks, it's into the filter graveyard and time to replace it with a filter that is more tolerant of generic parts.
We are certainly not fans of Baker Hydro sand filters.